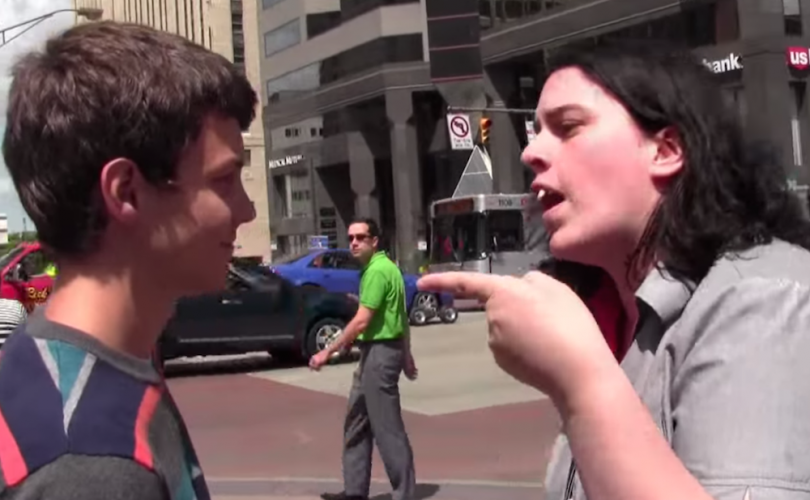 Violations of Created Equal's First Amendment Free Speech rights are becoming more and more at high schools and colleges across America. Recently, we were able to capture pro-abortion assaults and attacks at several high schools.
Additionally, this Fall semester we kept our attorneys busy BEATING BACK DRACONIAN SPEECH CODES at several universities. If we were to chronicle ALL of the attacks we've experienced, we would run out of space on this page.
We faced down out-of-control administrations at Wright State University, University of Michigan, Michigan State University, IUPUI, Indiana University–Purdue University Fort Wayne (IPFW), Temple University, and University of Louisville.
At the University of Pittsburgh, we were forced to conduct out to the public sidewalks that surround the college. Even then, our team was confronted by ARROGANT students who think they alone dictate what others can say.
Mark Harrington comments on the footage of recent attacks and violations of our First Amendment rights across America. The right to freely speak one's mind is one of the CORNERSTONES of our republic and one that many Americans shed their blood to protect. We will not let ABORTION BULLIES win. Our veterans and progeny deserve nothing less.
Created Equal is fighting back by supporting the Campus Free Speech Act in Ohio (HB 363).
You can watch The Mark Harrington Show LIVE every Thursday at 1pm ET on Created Equal Facebook, Twitter and YouTube accounts. If you can't catch him live, you can subscribe to Mark via podcast to listen any time!