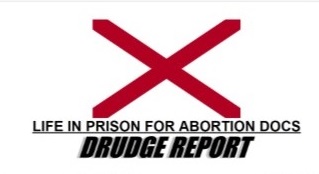 Alabama Governor Kay Ivey signed into law the strongest pro-life bill in the country, making almost all abortions illegal in the Yellowhammer state.
The Alabama Human Life Protection Act (HB 314) bans abortion for any reason other than to "avert (a mother's) death or to avert serious risk of substantial physical impairment of a major bodily function." Performing an abortion would become a Class C felony, punishing abortionists with up to 10 years in prison and a fine of up to $15,000.
Unlike legislation introduced in Texas, this bill would not hold the woman criminally culpable or civilly liable for committing the abortion.
National Right to Life says, "It goes too far." The "All or nothing" crowd says "It doesn't go far enough." Pat Robertson even says the law is too extreme. While, abortion advocates are going crazy over it.
During the legislative debate, Democrat state Rep. John Rogers rose to national prominence for defending abortion on the grounds that "some kids are unwanted, so you kill 'em now or kill 'em later."
WATCH THE OUTRAGEOUS FOOTAGE HERE: https://bit.ly/2WGPP5D
Mark interviews, Fr. Terry Gensemer, from CEC for Life who has been instrumental in the passage of this bill. Also, mark deals with the issue of whether women who commit abortions ought to be criminalized and send to prison.
Find us Online on other platforms:
Facebook Personal - https://www.facebook.com/MarkCreatedEqual
Facebook Page - https://www.facebook.com/TheMarkHarringtonShow/
Youtube Channel - https://www.youtube.com/channel/UC2kM_Q0sgCk9iVWAg8HNSFQ
Twitter - https://twitter.com/mharringtonlive
iTunes – https://itunes.apple.com/us/podcast/activist-radio-mark-harrington/id827982678 
Google Play - https://play.google.com/music/listen?u=0#/ps/Ii2i6elyevshicbfmc5263zq2ga 
Website - https://markharrington.org
Podbean - https://createdequal.podbean.com